We Know + Love Printing!
Screen printing is a traditional process for creating custom t-shirts and apparel. These processes provide quality and consistency for high volume orders, and are especially cost effective for those looking to print an illustrated design on a large quantity.
Low cost per print

Works with most garments

Logos and illustrations

19 x 22 max printable area

Pricing based on the amount of colors and quantity of prints
How it works: Each color represented in the design requires a separate screen, making this an ideal process for designs with fewer colors. A thick ink called plastisol is applied to the garment by pulling the substance through the screen with a squeegee. This process is repeated for each color field, and heat is applied in the final step to finish the job.
The end result is an economically-produced print because once the screens are set up, it only takes seconds to actually apply each layer to each tee.
Go Llama Go offers a low minimum order of 24 pieces for custom screen printing, and our printers are able to save screens for those who intend to place future orders.
Our prices are largely standardized and include tiered price breaks for large screen printing orders. We can customize everything from hoodies to hats, tote bags, gym shorts and duffel bags through the screen printing process.
Plastisol (screen printing)
Plastisol is the most common ink that we use to create thousands of vibrant and durable designs. It's ideal for apparel printing because of its longevity and accuracy in color-matching.
Plastisol works great for designs that include text, and can be applied to any kind of fabric--light or dark.
Each color layer of your design will pile the ink thicker and thicker—therefore, the less colors in your design, the thinner your print will feel on the fabric.
The more colors in your design, the thicker your print will be. Anyone who is looking for a personalized t-shirt or accessory with high-performance capability will likely find this as the best choice for the job.
Soft Feel Plastisol (screen printing)
The Soft-Feel Plastisol option will produce a thinner print and allows some of the fabrics texture and color to show through the ink. This effect is achieved by mixing an additive in to the plastisol that thins the solids--chemically reducing the ink to a more transparent state. This process is not recommended for dark colored garments because of this translucent effect; the dark hue of the fabric drowns out the colors of the ink and makes the print less visible. Exact color matching is also not possible because of the transparency, therefore anyone who is looking for a bright and vivid print would not want to use soft hand feel plastisol unless printing on a white or very light colored garment. Because of the complex nature of this process, it is best to consult with one of our knowledgeable customer service representatives if you are interested in using soft feel plastisol.
Water-Based Discharge (screen printing)
As a rule of thumb, this process will create the softest and most lightweight screen print, and is a fan favorite of those who are looking for a large print on clothing or a barely-there feel. This process is applied by bleaching out the existing fabric pigment rather than laying down a white under-base. The bleached fibers are then dyed with ink to create your desired image or logo while maintaining a soft feel. When bleaching out the garment, the fabric is not guaranteed to reach a true white shade since the original color of the blank is unknown. Because of this, there is almost always a slight skew in the colors of the finished product unless you are printing on a white garment. These water-based inks can only be applied to 100% cotton garments because of the chemical reactions that are necessary to achieve the closest color match to your design.
Ink Effects (screen printing)
Additional screen print processes that we offer include metallic foils, Crystalina overlay, metallic inks and puff ink.
The foil method is great for anyone looking to make a statement or add some lightweight bling to their print. This is applied by first laying down a layer of glue to the desired areas on the garment, and then laying a chrome foil over the glue. Heat is applied to bond the two together, and the end result is a bright, flashy metallic finish. Color options are limited to the foil colors that we offer.
Crystalina overlay adds depth and sparkle to your design by laying a thick, translucent layer with colored shimmer over specified colors within your design. Crystalina adds just the right amount of sparkle, and is great for women's and children's designs. It can be applied to only one color layer, or your entire design.
Metallic inks are a great way to add subtle depth to your design without the reflective sheen of metallic foils. Choose from a small grouping of color options, including bronze, copper, steely blues and earth tones.
Create a 3-D bubble effect with Puff Ink. This additive makes the plastisol expand into a marshmallow-like state and is more economical than some of the more pricey Super Gels. Colors can be matched closely to your desired design, though your exact shade may not be available.
Dye Sublimation is a unique printing technique that allows for full color, all-over apparel prints. Have you ever seen a bright shirt that was covered with an all-over image or pattern?  If so, it was likely printed through the sublimation printing process. This quick process produces stunning, vivid color and offers superior softness.
Higher cost per print vs screen printing

100% Polyester Logos and illustrations

Vibrant all over prints

Entire (polyester) garment is printable

Pricing based on qty
How it works: your design or image is printed onto a sheet of transfer paper using specialized inks from a sublimation printer. Once the image is printed, the garment is laid onto the sheet with either just the front, or the front and back covered. It is then placed into a heat press, which applies 400+ degrees to the garment.
The sublimation ink turns into vapor at such a high heat—bonding itself to the polyester fibers of the garment. After only a few moments, the garment is removed from the transfer paper with the job finished. This process works great for small and large quantities alike, and we accept a minimum of 48 pieces per order.
Preparing Your Dye Sublimation Print
Because the pigment actually binds to the fibers of the tee rather than being laid on top of it, the sublimation process leaves NO hand feel of the ink—meaning that the fabric flows naturally with the print being completely seamless on the garment.
Using 100% polyester garments is always recommended. Polyester-blended fabrics can also produce quality results as long as there is at least a 65% polyester. Our sublimation dyes must be applied to all white apparel in order to assure the closest color match to your design. If you only need one side printed, please keep in mind that the blank side will remain completely white. These are all things to keep in mind while designing and placing your order.
Choosing Dye Sublimation Printing
The dye sublimation technique works great for anyone looking to print all over patterns, photo t-shirts and elaborate artistic t-shirts. The printer works best with tees because of their flat surface, however we can sublimate on any high polyester content garment. Keep in mind the garment should be white for best results. Check out our sublimation page to see a list of suggested blanks.
Whether you're a budding apparel designer looking for custom printing, or a band looking for unique merchandise, this could be the perfect option for you.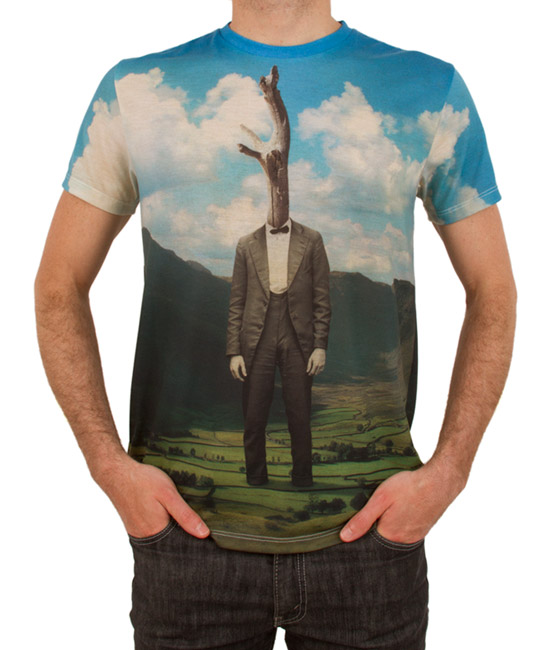 Embroidery is a great way to add personalization to your personal and professional apparel. Whether it be simple lettering or a rendition of your company or team logo, our master machines and skilled staff can provide quality custom embroidery at a fast turnaround.
Works with most garments

Logos and illustrations

13 X 15 Max Size Embroidery

Pricing based on stitches/qty
One of the factors to consider when preparing an order for embroidered shirts is the weight of the fabric you intend to use. If your design requires many colors or a large surface area, you will want to avoid lightweight burnout t-shirts and soft jersey tees because a heavy design will need a heavy fabric In order to keep it dimensionally stable.
Knitted nylon and spandex also do not do well with embroidery because of their elasticity. Embroidery requires strong and sturdy fabrics in order for your design to remain strong and sturdy.
Anything from jackets to ball caps, hats and bags can be embroidered. Embroidery adds a touch of personalization to polo shirts, bowling shirts, team apparel and uniforms. We require a minimum of 6 pieces per order and offer standardized pricing per item. 
As a relatively new and always improving technology, Direct-to-Garment printing is an increasingly popular choice for apparel printing.
Cost effective for high color small runs.
100% Cotton
Photo realistic printing
14 X 16 Max printable area
Pricing based on qty

 

As a relatively new and always improving technology, Direct-to-Garment printing is an increasingly popular choice for apparel printing. Some of the obvious benefits of DTG printing are the over 16 million color options, the soft touch of the water-based ink and the ability to print photorealistic images. Using modified inkjet technology, the Direct-to-garment printer works much like any regular table top printer would—printing each garment at a time with careful precision. In three easy steps, our technicians are able to create custom apparel with shocking clarity
Choosing DTG
While choosing this process seems like an easy decision, there are several factors you want to consider when deciding if DTG printing is the right choice for your order. The main setback is the wait time that is required for each and every printed garment. This makes DTG a better option for those looking to print smaller quantities (our minimum is 6 pieces). There is no price break for larger orders, as with screen printing, because each piece takes the same amount of time and materials to produce.
The thickness of the print will depend on the darkness of the blank garment. Just like your printer at home, the DTG printer can only print accurate colors onto a white surface. Luckily, this technology has advanced and is now able to print white ink—allowing a white under-base to be laid down on the garment before applying the color. This white layer will add some thickness to the print, though not as much as you would expect on a standard screen printed tee. When deciding on the t-shirts that you would like to use, be sure to remember that the darker the tee, the thicker the print! Those looking for the most lightweight print should also choose the lightest colored garment.
100% cotton garments will return the best results, as manufactured fibers unfortunately have a tendency to repel the water-based inks that we use in digital t-shirt printing. Polyester, for example, is made of a plastic-like materials and is non-absorbent—creating inconsistency in the color, density, and durability of your design. We do not advise printing on fabrics that are blended with man-made fibers so that we can avoid any confusion about the expected results. Luckily, we have plenty of 100% cotton styles to choose from! Find stylish options with brands like American Apparel, Alternative and Bella + Canvas, while brands like Gildan and Tultex offer work-ready blanks!
Photorealistic Printing
When designing a photorealistic print, keep in mind that the resolution of the image you choose will be a factor in sizing your print area. Depending on the size of your desired print area, images under 300dpi may come out pixelated. Our design technicians can assist you with this—though it's a good idea to avoid using images that appear small on your computer screen all together. DTG printers can also render clear and vivid images on some of the smallest print areas if you are in need of a logo. We offer the best pricing on wholesale DTG printing so contact us to place your order today.                                                                                                     
Contact us for your free consultation today 503.726.4111 / sales@gollamago.com